ASTHRA, the flagship event of Amrita VishwaVidyapeetham, MBA Programme, Kochi commenced as a B-fest in 2012, metamorphosed into an International Symposium in 2015.As a part of ASTHRA, AMRITA VISHWA VIDYAPEETHAM, MBA PROGRAMME, KOCHI is conducting, 'CHAKRAVYUH', a Business plan competition and 'BUSINESS QUIZ'.
The prime objective of Chakravyuh is to provide a strong pedestal for students and professionals to present their Business Plans, bring it into the limelight, thereby unleashing the Entrepreneur in them. Chakravyuh has always been a covetable platform for the participants to meet and interact with eminent entrepreneurs and business conglomerates. The event has also seen participants from Universities across the globe, vying with each other.
The 'BUSINESS QUIZ' is designed as an ingenious and interactive program to facilitate a bountiful flow of knowledge and ideas packaged in exciting rounds. Learning through management quizzing is fun and goes beyond the traditional bounds of management training.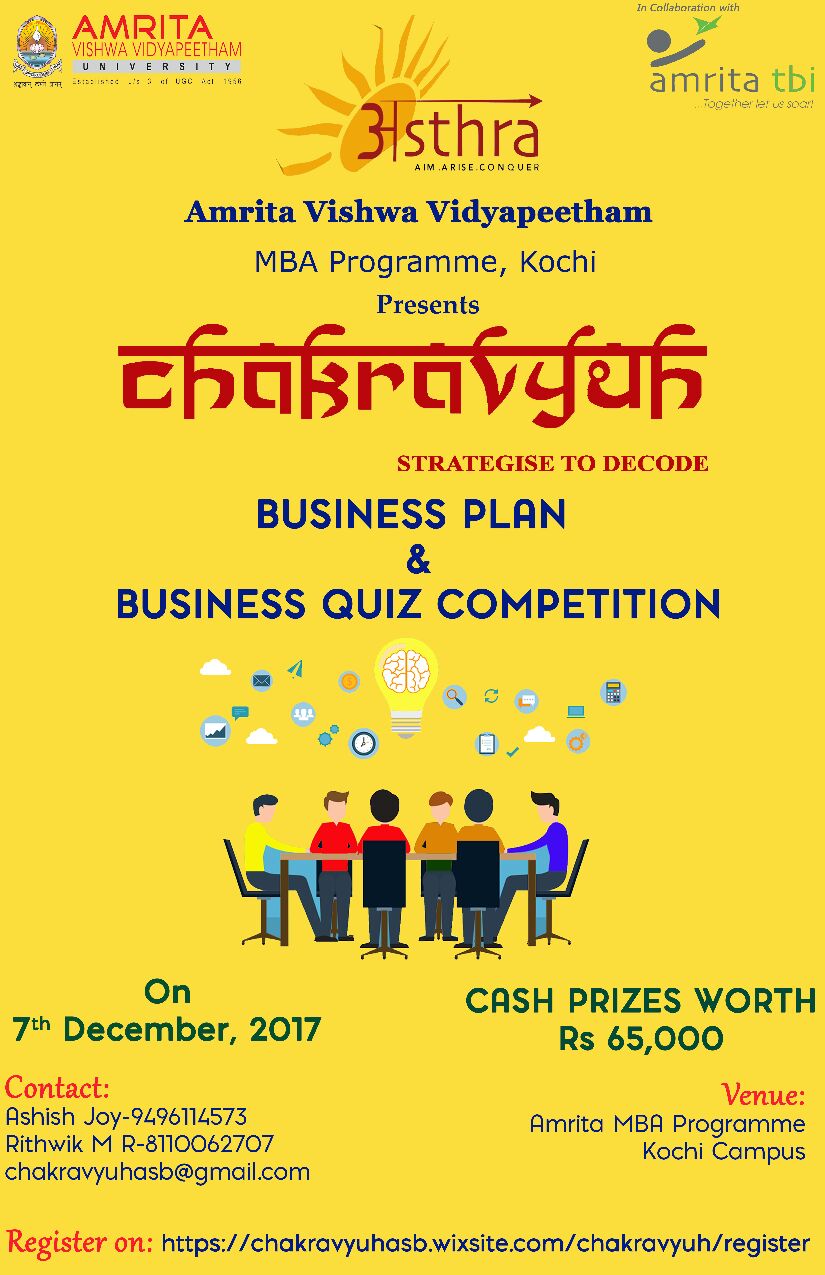 Business Plan Competition
RULES TO BEAT THE CHAKRA
Each entry should be labelled with your name, contact number, college name /company name and your e-mail address.

The plan proposed must be in line with the theme.

Proposals can be based on any topic or stream, supported by an innovative idea/technology or an alternative solution

A team can consist of maximum 5 members.

All entries must be original work of the entrant and must not infringe on the rights of any other participant.

Final results will be judge's prerogative.

Time for presentation will be 20 minutes.

The participants can register here.
IMPORTANT DATES:
Last date of submission :10th November 2017
Final presentation: 07th December 2017
Declaration of : 08th December 2017
PRIZES
1st Position:₹30,000/- worth of prizes.
2nd Position:₹20,000/- worth of prizes.
THE EVENT WILL BE HELD IN TWO PHASES:
Round 1: Participants are required to email the detailed business plan.The result
would be announced on the above-mentioned date.
Round 2: Top 10 teams shortlisted from Round 1 will be invited to make a
presentation.
BUSINESS QUIZ COMPETITION
GENERAL GUIDELINES:
1. Only registered teams are eligible.(Registration can be done here.)
2. A team shall consist of two students.
3. Quiz Master's decision will be final.
4. Use of mobile or other electronic device is not allowed.
5. Replacement of any participants of a team is not allowed after registration.
IMPORTANT DATES
Last date of application :10th November 2017
Quiz competition: 07th December 2017
Declaration of : 08th December 2017
PRIZES
1st Position: ₹10,000/- worth of prizes.
2nd Position: ₹5,000/- worth of prizes.
ASB Kochi, AIMS Campus
Cochin , India