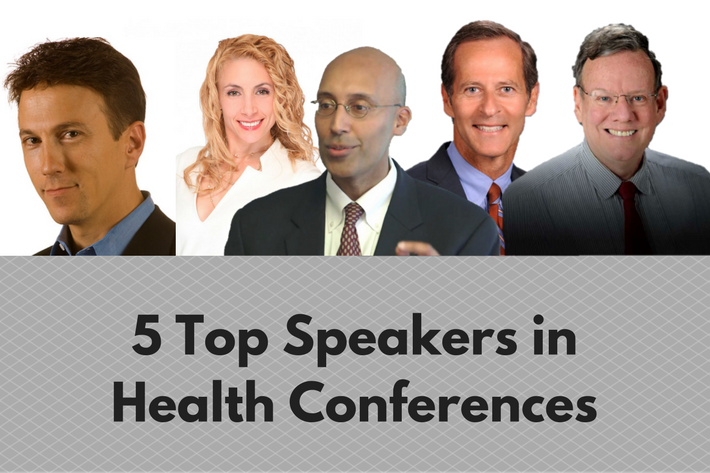 5 Top Speakers in Health Conferences
If you're thinking about attending a conference, then as well as the location and the scale of the event, you should be sure to check out who the keynote speakers are. A keynote speaker can be inspiring to everyone in attendance at a conference, and as well as learning about new research or recent developments in the field, you'll have the opportunity to discuss and debate with your fellow conference attendees. The keynote speech sets the tone for the conference, so a great keynote speaker can lift an entire event.
If you work in the area of health and are considering attending a conference, then keep your eyes open for the opportunity to see any of these five speakers. They are some of the top speakers in the field of health at conferences:
Daniel Kraft
Daniel Kraft is a physician and scientist with an interest in biomedicine and in developing healthcare technologies. Trained at Stanford and Harvard, he worked in internal medicine and paediatrics before working a fellowships in the areas of haematology, oncology, and bone marrow transplantation. His speeches cover topics like the future of healthcare and the role of technology in developing healthcare, taking information from both his experience as a practitioner and his knowledge as a researcher. He is known for his popular TED talks and for his engaging, enthusiastic speaking style.
Robin Farmanfarmaian
Robin Farmanfarmaian is also a speaker in the future of healthcare, with a special interest in entrepreneurship and technology and its role in health. She talks about how technology can empower patients, based on her own experience: As a teenager, she was mis-diagnosed with an autoimmune disease which lead to a great many unncessary surgeries and other medical interventions. Now she champions patient-centric health care approaches and how these can be supported by technologies like big data, wearable technology, 3D printing, and access to healthcare information. Her presenting style is energetic, and informative, and she brings together both her expertise and her personal experience in her talks.
David Nash
David Nash is an expert on healthcare management and staff development, and is the Doris N. Grandon Professor of Health Policy at the Jefferson School of Population Health. His expertise has been applied to both private and public healthcare organisations, and he was won multiple awards for his work improving the organisation of health care bodies. His speeches cover topics like the cost of healthcare relative to its efficacy, and how this can be improved through debunking healthcare myths to guide physicians to better decision making. He also speaks about the practical steps that organisations can take to improve the quality of healthcare, through data collection and analysis, establishing measures of success, and assessing patients' experiences.
Gurpreet Dhaliwal
Gurpreet Dhaliwal is a unique speaker who researches the way that doctors diagnose, make treatment decisions, and develop expertise. He is a professor of medicine at the University of California San Francisco and specialises in the education of clinicians. His work with physicians looks at leadership within healthcare, the ways in which physicians engage with the healthcare system, and how physicians can be encouraged to give the best quality of care to patients. His speeches apply this expertise to various topics including the cognitive biases of clinicians, how understanding cognitive patterns can help hospitals and other healthcare organisations to save money, how to improve clinical judgement, and the importance of technological developments like computer-assisted diagnosis.
Steven Eastaugh
Steven Eastaugh worked as a professor of health economics at Cornell University and George Washington University and as a senior staff health economist at the National Research Council, National Academy of Sciences. He has expertise in not just the topic of healthcare reform, but also experience at working within government structures to put that reform into place. As an advocate of market based health care reform he gives speeches on the future of healthcare and on the failure of the managed care model, among other topics.
---
---
Top Blog Posts to Read: