Dear Colleagues and Friends,

It is our pleasure to invite you to attend the 5th International Conference on Sovereign Bond Markets.

The conference this year focuses on Sovereign Debt and Financial Intermediation, and is sponsored by the NYU-Salomon Center. Co-sponsors include the University of Michigan-Mitsui Life Financial Research Center, Research Center SAFE at Goethe University Frankfurt, Centre for Asset Management Research & Investments at NUS Business School, Waseda University, and Bank of Canada.

In the aftermath of the financial crisis, the key role played by sovereign debt in facilitating financial intermediation has received increased attention from academics, debt managers, and policy makers in general. The use of government debt to obtain funding liquidity, and to help in the price discovery process, is essential to maintaining well-functioning financial markets. An understanding of the mechanisms underlying the interaction between sovereign debt and financial intermediation is required for debt managers to tailor financial market policies to achieving macroeconomic goals.
We solicit theoretical and empirical papers on the interactions between financial intermediation andsovereign debt markets. Topics of interest include:
Sovereign debt distribution: participants, auction mechanisms, and market outcomes

Financial intermediation and the term structure of sovereign debt issuance

Liquidity provision, transaction costs, and price formation in secondary sovereign bond markets

Regulations (e.g., Basel III, Dodd-Frank) and their impact on financial intermediaries

Unwinding of unconventional monetary policies and their impact on sovereign bond markets

Sovereign debt issuance and spillovers to small open economies
Papers in related areas may also be considered. The final program will include both submitted and invited papers. The conference will also feature a session by debt managers on current sovereign issuance practices in major economies, and a panel discussion on researchers' and practitioners' views on the major outstanding issues in sovereign bond markets.

The Scientific Committee for this Conference includes:
Robert F. Engle, NYU Stern
Marti G. Subrahmanyam, NYU Stern
Paolo Pasquariello, Ross School of Business, University of Michigan
Jun Uno, Waseda University
Loriana Pelizzon, Research Center SAFE at Goethe University Frankfurt
Toshinao Yoshiba, Bank of Japan
Simone Manganelli, European Central Bank
Michael Fleming, Federal Reserve Bank of New York
Joseph Cherian, NUS Business School
James Chapman, Bank of Canada

CONFERENCE DEADLINES: Those wishing to present a paper at the Conference should submit by December 15, 2017 to sovereign.conference@greta.it. Decisions regarding acceptance will be made by February 1, 2018. The final version of accepted papers must be received by March 1, 2018. A limited travel budget is available for presenters and discussants to help defray travel and lodging expenses.

Please visit the website http://www.greta.it/sovereign/conferences.htm for further information about the current and past conferences.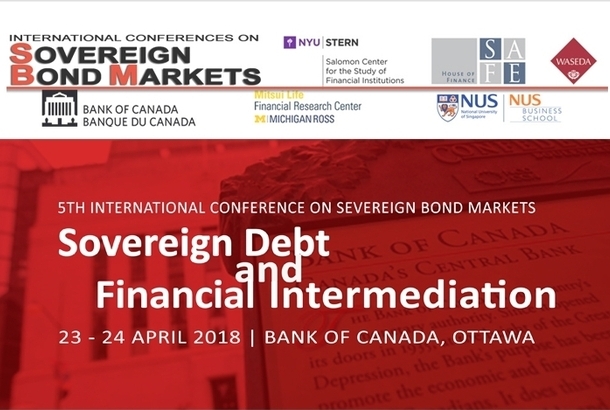 Start Date:
End Date:
Deadline for paper submissions:
Expired
Deadline for paper submissions:
Expired
234%20Wellington%20Street%2C%20Ottawa%2C%20Canada