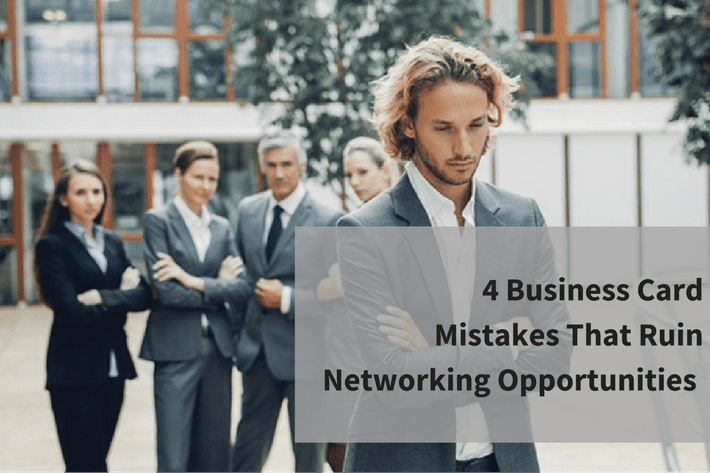 4 Business Card Mistakes That Ruin Networking Opportunities
Most of us have a story about a first date that seemed to go well, yet the person never called us back. It's often a guessing game trying to figure out what you did wrong. Did you talk too much? Get food stuck in your teeth? Have bad breath?
It's an uncomfortable experience—and it isn't isolated to romantic relationships. Every researcher has met a potential collaborator or client at a conference, presented them with a business card… and never heard from them again. If your networking connections are ghosting you, it's easy to get stuck wondering what's wrong.
We're here to tell you: it's your business card. Poor graphic design is the networking equivalent of being a bad date. Here's how your business card is sending the wrong signals—and how you can improve it to make sure you get a call back.
Cluttered and confusing layout
Business cards need to contain a lot of information in a little space, and trying to squeeze everything in can feel like playing a game of Tetris. Except that you won't win in the networking world if you stuff every single millimeter of your card with info.
If your card's layout is too crowded, your connection won't try to read all that tiny text. They'll just pitch it into the trash (where 90% of business cards go). Likewise, putting details in an illogical order slows the reader down. They don't want to hunt for your name or contact info; they want to know whose card it is and how to reach you.
The Fix: The first step is to figure out what's important—then axe the clutter. But unless you have a natural eye for design, it's tough to decide what's most important and how to size elements relative to each other. That's why hiring a trained graphic designer comes in handy; they'll know all the subtle tricks to make your card appeal to your connections.
Hideous or non-existent imagery
"Hideous" may be an exaggeration (we can assume you've got decent taste), but you'd be amazed at how many business cards use unprofessional imagery. It could be that the image quality suffered after being shuffled through too many files. Or, it could be worse—like an impromptu picture of you that an intern took on their iPhone.
Connections can smell an unprofessional image a mile away. It's a huge turnoff to them, which is probably why many people don't include images on their business cards at all. But this, too, is a mistake. Images help people connect your name to what you do. You need to include one—it just has to be the right one.
The Fix: You'll want to work with a professional portrait photographer if you plan to use a photo of yourself; a good photographer will have an online portfolio, service list, and their own blog where you can preview their work. For a more playful option, hire a cartoonist to create a quirky, cool graphic that shows off your personality. You can typically find these artists through a crowdsourcing site like PeoplePerHour.
Too much contact info
Most people don't know how much contact info they have—until they design a business card. Then you've got email accounts, phone numbers, websites, blogs, social profiles, and street addresses coming out of the woodwork. Of course not everything will fit on the card, but many try to include as much information as possible. After all, people need options, right?
Nope. People don't need options. They're very busy attending conferences, conducting research, and living their lives. They need you to give them a quick, easy way to contact you—one that they enjoy using and that you respond to in a timely manner.
The Fix: When you learn what to put on your business card, you'll be surprised to realize how little contact info you need. Business cards are most effective when they cater to the type of contact info the target audience prefers, so consider how people connect in your line of work. If you're attending conferences for financial professionals, you'll need a very different business card than someone attending conferences for life science researchers.
The design isn't innovative
Business cards are almost all the same size (3" x 2.5" in the U.S.) and almost all the same material (paper). Even people who switch up a horizontal card for a slightly-more-rare vertical one still use the same size and material.
With so many cards out there, it's easy to get lost in the shuffle. And that goes double for template-based designs. Templates are certainly easy to use, but they aren't very original. And as you already know, the worst thing a researcher can be is unoriginal.
The Fix: Talk to your business card designer about ways to change up the shape or style of your card. Most printers can make custom die-cuts in virtually any shape you want, and quite a few specialize in unique materials like plastic or metal. Or, ditch the "card" entirely and give your connections a treat. Chocolate bars in customized candy wrappers are a big hit, especially at conferences where people can always use a snack.
Ready to test out your new business card design? Sign up to Conference Monkey and receive personalised email on upcoming call for papers!