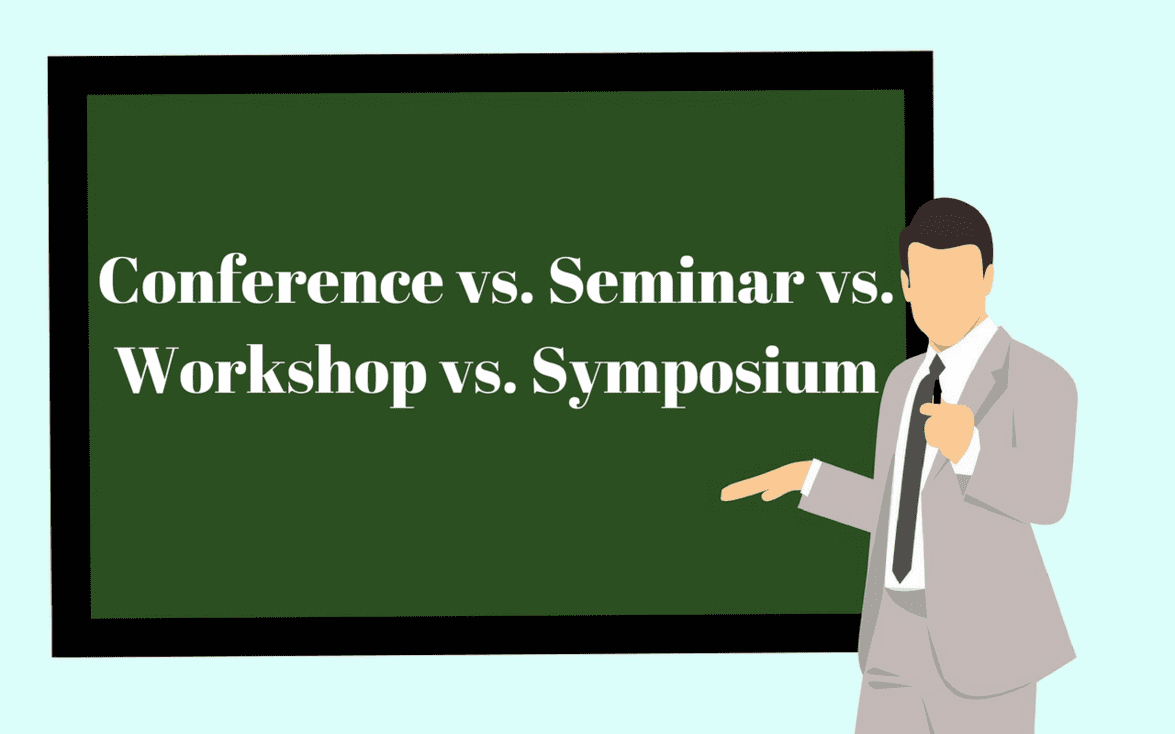 What's the difference between a conference, a seminar, a workshop and a symposium?
Read a summary or generate practice questions based on this article with the new INOMICS AI toolhere.
There are lots of different types of academic event that you might want to attend, such as conferences, seminars, workshops and symposiums. Each has its own benefits and drawbacks, and generally they have a different slant. Size, for instance, is usually a big factor in whether something is regarded as a conference or a symposium. Usually the difference between a conference and a symposium is that a conference will be a larger event and a symposium a smaller one.
This article was originally published on Conference Monkey and has been syndicated to our sister websites. If you're looking for a conference to head to this year, check out our conference listings on Conference Monkey.
Moreover, the difference between a conference and a seminar may be that a conference has a more general theme with a focus on presentations and lectures, whereas a workshop is usually more specific and hands-on, so to speak.
However, as we'll see there are grey areas between these types of events, and the line isn't always clear. Really, what's important is that everyone has a good time and learns something.
Nonetheless, it's good to know exactly what you're getting into, especially if you're actually presenting a paper or giving a lecture. So let's dive into the specific differences between a conference, a seminar, a workshop, and a symposium.
In this article:
What's a conference?
Conferences tend to be the largest events vs. smaller workshops and seminars. They can number anywhere between fifty attendees to thousands of attendees, and the largest may host even more visitors that that. You'll come across both national and international conferences – national conferences are typically attended primarily by people living within the country which is hosting the event, while international conferences can attract visitors from all over the world.
Conferences tend to be the most prestigious forms of events as well, so they are the place where you most want the opportunity to present your work as a talk or as a poster. Speaking of which, conferences will usually involve a number of talks by prominent speakers in addition to poster sessions where researchers present their ideas and data in a visual format. When you attend a poster session, you can walk around and look at each of the different posters and stop to chat or to ask questions of the presenter as well. Presenters will stand next to their poster and will often have a short 5-10 minute explanation of the poster which they will give to anyone who asks.
If the conference is a large one, you will find concurrent events. This means that there might be two, four, or even more talks happening at the same time in different locations. You need to be organised to find out when and where the talks you want to see are being held, and you should make good use of your conference timetable which will hold all of this information.
If you're planning on attending a conference this year, check out our insight into 10 hacks for a better conference experience.

What's a seminar?
The difference between a seminar and a workshop is that a seminar tends to be held within one institution or university, and will often a seminar will be a small group of people – say, between five and ten attendees – who come together to focus on a particular issue. Often seminars will be less formally structured than conferences, so one person might give a presentation but it will probably be brief. There is more of a focus on discussion at these events, so do feel free to chime in with your thoughts on the topic at hand.
Another difference between a seminar and a conference is that while conferences usually last for between a few days and a week, seminars will be much shorter. They may be for an hour or two in the afternoon rather than lasting all day. Some departments will organise regular seminars, so for example you might meet on the first Monday of every month.
Seminars are a great place to test out some new ideas or theories that you've been thinking about but aren't 100% confident with yet. If you're working on a concept or an idea for an experiment but you want to hear some feedback on it before you develop it further, offer to present it at a seminar. This kind of small group is perfect for getting honest feedback and you might even get some suggestions for improvements to your ideas.
Check out our insight into tips for a more interesting and memorable conference presentation if you're planning on presenting at any of these types of events this year.
What's a workshop?
The difference between a workshop and a conference is that workshops are generally smaller than conferences, and are usually only a day or two long and are dedicated to discussing a specific topic. Although these events are held as part of a department, you will often find outside visitors who attend them too.
The atmosphere is somewhere between a seminar and a conference, meaning it is less structured than a conference but more formal than a seminar. Workshops are also sometimes more diverse in terms of attendees than other events. You'll find people from different departments and fields attending workshops together, and you may find non-academics such as journalists or people in business will attend too. The best workshops have a specific, action-oriented purpose, and aim to generate some concrete answers to current problems in the field. Workshops are a good opportunity to learn new skills and to familiarise yourself with a topic you don't know well.
If this piece has inspired you to apply to a conference, workshop, symposium or seminar, read our piece on how to get accepted to an academic conference.
What's a symposium?
The main difference between a symposium and a conference is that a symposium tends to be similar to a conference, but smaller. The definition of a symposium isn't completely clear – the Oxford Advanced Learner's Dictionary describes it simply as 'a small conference'. However, similarly to a workshop, a symposium tends to focus on a particular issue rather than a more general theme. Generally a number of experts will come together in order to present their ideas and papers to one another.
Similar to a conference in that the focus is on presentations and lectures, and less hands-on than a workshop, a symposium is typically completed in a single day. Symposiums may be more prestigious than a conference, with an emphasis on experts presenting their work and occasionally discussing it afterwards (though not to the extent of a seminar). Finally, symposiums will generally be smaller than a conference.
Saying all this, it's likely you'll visit a symposium that seems more like conference and a workshop that could easily be called a seminar. The difference isn't always clear, and there's usually some grey area. What's important is that you learn something while you are there, and get to listen to some of the leading experts in their fields discuss their work.